WE WILL HELP YOU UNCOMPLICATE YOUR BUSINESS OPERATIONS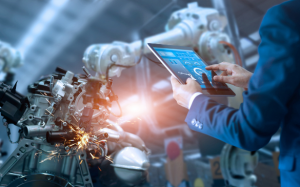 COVID-19 has transformed our ideas about how and where we work – placing flexibility, adaptability, and technology at the heart of the workplace. This shift in the way we work is just the beginning of a change.
As we move into 2021, it is evident that we have only begun to scratch the surface of adapting to the new working landscape. Strong leadership remains the key, but the way we carry ourselves and interact with team members has become more critical than ever before. More importantly, leaders have to set a team's culture and are responsible for fostering an environment of connection and cohesion, regardless of where everyone is located.
As the world is getting more collaborative, integrated, and connected, organizations across the world feel a bit overloaded, often driven by FOMO (fear of missing out). They need to react faster especially when their business environment changes with the digital era, otherwise, they risk not being able to catch up or end up in survival mode. The explosion of new technologies, platforms, devices, and the changing nature of work is pressurizing the businesses to acknowledge the importance of leveraging the latest technologies to achieve higher operational efficiencies and business agility.
Maintaining constant profitability is being difficult for asset-intensive organizations. Executives need to supervise complex global supply chains, expansive asset inventories, and field operations that send technicians/workers to hazardous or remote locations. Organizations need a platform that truly connects their workforces and makes them more productive, more capable, and more efficient. A platform that easily integrates workforce, data, and processes and provides organizations real-time visibility and connectivity while ensuring productivity, safety, and compliance.
A connected workplace is an integrated network of systems and tools that enable secure and productive work. For employees, a connected workplace improves remote and in-office collaboration and promotes efficiency. For security teams, it cuts complexities that make their organizations' security vulnerable.
Integrations are particularly important to companies that have a hybrid work model. At these organizations, employees have the flexibility to work in or out of the office. Technology is critical to keeping their teams connected and their work moving forward.
Benefits of Having a Connected Workplace
This way of working is designed with flexibility in mind. There are no assigned seats when employees come to work. They can collaborate with their team members and work independently as required. Meeting rooms can be reserved on an ad hoc basis using mobile devices in real-time. Employees are more likely to be engaged when they feel they have more control over how they spend their time at work, starting with where they sit while performing tasks.
Companies that operate with siloed systems, teams, and information are not going to achieve the highest possible results. Processes can't be streamlined and automated when everything in your business is isolated. In this blog, we explore the reasons why having a connected workforce is so important and how you can achieve it in your organization.
Productivity
If your information and systems are disjointed, it means your workforce is also disjointed and your company can't operate at peak productivity levels. All your teams will be in some way inhibited and will have to waste valuable time on internal communication, or locating the relevant information to complete their job. When your employees are connected and to the information they need, the streamlining of all processes happens. The time saved will allow your team to focus more on important tasks and enable them to work more proactively resulting in not only a more efficient but more effective workforce.
Collaboration
Internal communication can take up a lot of time in businesses when different teams are working together to complete a project, trying to locate documents, communicating issues, and focusing on deadlines at every stage of the process. Working on jobs is easier for your business if you have a system with features like document revision history, audit trails, and job life cycle overview, this will increase visibility and make it easier for different departments to work together collaboratively and productively.
Visibility
To support management when making critical decisions, access to information and more importantly simple analysis is crucial. With paper-based, spreadsheets, or manual processes this visibility is very limited or does not exist. In larger organizations, even inter-department decisions and visibility can be important, and in the modern world companies have multiple offices, home-based workers, mobile field employees, and making sense of complex business operations is a real challenge. Appropriate information strategy can create a connected workforce and enable the visibility of operations from start to finish which in turn supports management to make informed strategic decisions.
Mobile
If your department(s) are operating from paper and spreadsheet-based processes, it's hard and often impossible for your workforce to work while on the go. Employees have to carry folders and information with them which removes visibility of that information for people back in the office, or your team will have to wait till they return to the office to complete important tasks. Providing your employees with the ability to communicate and share information with colleagues when they are out of the office increases productivity levels throughout the business. It can also benefit your clients if your team can answer their questions quickly by checking a system for notes or internal communication straight from their tablet or mobile phone.
Connecting Your Workforce
It's one thing to understand why connecting your workforce is so important, but achieving a connected workforce is another.
Integrate any existing business systems in your organization to remove any disjointed or duplicated information.
Adopt a more open communication stream, instead of one-to-one phone calls or emails, create a group conversation where employees can share information and ask/answer questions.
Enable employees to stay involved even when they're out at meetings or events, by uploading information or responding to an issue from another member of the team.
Automate tedious, time-wasting jobs that are taking up employee time and use a system that provides automatic notifications and reminders to reduce the time departments have to spend on internal communication.
Systemizing business processes not only enables many of the above benefits but also ensures compliance with the process across your operations and consistency is important to your customers.
Implement a system that provides visibility of project progress so that your teams can avoid potential issues that could affect your customers.
Employers now need to build their workplace strategy around this desire for a truly versatile hybrid way of working. They can create a workplace culture that empowers employees to work flexibly depending on the type of work they need to do and their circumstances. And at the same time, they can enjoy both the benefits of remote working and those of traditional office work.
Prusight provides end-to-end workplace management solutions across various industries. It has everything you need from visitor management to managing room bookings, desks, deliveries, and more. Take us for a test drive, start your 14-day trial, and find out what we can do for your business today. Learn more about it. Let's talk.
Start Your Free Trial Today
Prusight can help you transform your office into a collaborative, productive & security-rich environment. Get started in minutes!
Start Your Free Trial Today
Prusight can help you transform your office into a collaborative, productive & security-rich environment. Get started in minutes!